Loyalty Club
Loyalty Club: Provide your address and birthday & anniversary dates for special rewards in the mail. Loyalty Club newsletters will be emailed.
David's Milwaukee Diner
Come aboard David's Milwaukee Diner for a dining experience that will be a memorable occasion. Our chefs have created a delicious menu with a variety of American Cuisine that will be sure to fancy your taste buds.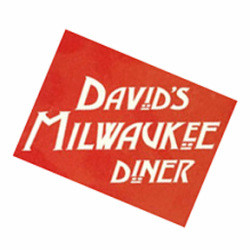 Named for David Jackson Pattee, the man in whose honor the hotel was built, and for the Milwaukee Railroad, for more than 100 years the main employer in Perry, the Diner aims to take you back to the era when the train was king.
The Arrow Room, named for a Milwaukee passenger train, is a recreation of an early 20th Century railroad dining car, complete with coffered ceiling, wood paneling, and murals showing the countryside near Perry by Bouton artist Dennis Adams. The Challenger and Hiawatha Rooms, also named for Milwaukee trains are designed in the Arts and Crafts style frequently found in depot restaurants and rail road hotel dining rooms. The Challenger Room is topped with murals of Perry's Railroad past by Iowa artist John Preston remind you of the panorama passengers viewed from the train that was Queen of the Rails.
Inter-Urban Lounge
Named for the electric train that shuttled travelers back and forth between Perry and Des Moines throughout the early part of the 20th Century, this lounge is decorated in the style of the Midwest's best-known Arts and Crafts designer, Frank Lloyd Wright. Known as Prairie Style, Wright's designs dot the Midwest. Photos of the Inter-Urban, Perry's railroad history, and the people who made the town line the walls. Relax and enjoy a great drink menu daily in the Inter-Urban Lounge.
David's Milwaukee Diner Hours of Operation
Sunday
Breakfast - 7AM - 2 PM
Lunch- 11 AM to 2 PM
Dinner - 5PM - 8PM

Monday - Thursday
Breakfast - 7AM - 10:30AM
Lunch - 11AM - 2PM
Dinner - 5:00 PM - Inter-Urban Lounge opens for appetizers and drinks
5:00pm – 9:00 pm -Main Dining Rooms open

Friday & Saturday
Breakfast - 7AM - 10:30AM
Lunch - 11AM - 2PM
Dinner - 4:00 PM - Inter-Urban Lounge opens for appetizers and drinks
5:00pm – 9:00 pm -Main Dining Rooms open
Pattee Cakes
Let our Pastry Chef Dakota. She will WOW you with her freshly baked cupcakes, cakes, pie's, cheesecakes and more!
Stop in to purchase a variety of items in our Bakery Case or complete the attached Custom Order form and email to Jay@hotelpattee.com



Cake Order Form
Chef's Table
Welcome to the Chef's Table at the Hotel Pattee-A dining experience for you and 9 friends!
A totally new concept for the hotel. We purchased a beautiful Red Cherry Table and placed it in a nice cozy space in the lobby near the library. The customized meal includes five courses, including dessert. Reservation must be made in advance. Our Executive Chef will prepare all five courses from scratch and you will be pampered by a dedicated Server.
Call Jay direct for more information and/or reservations. 515-465-3511
​
$50/seat (Does not include tax, gratuity or liquor) You have the table for the entire night!
You can now book the Chef's Table any night of the week for your party of 10 with a two week advance reservation to allow our Chef's time to prepare your meal.
Sample Chef's Table Menus
Menu 1
Asparagus Soup en Croûte
Frisee and Endive Citrus Salad with Pan-Roasted Duck
Butter Poached Lobster Risotto with Oyster Mushrooms
Mustard Glazed Lamb Rack
Chocolate Fondant
Menu 2
Cucumber wrapped BLT salad
Seared Diver Scallop with butternut squash risotto and Bacon-Balsamic Sauce
Pan-Seared Black Gouper with Fried Polenta and Romesco Sauce
Striploin Steak Dijonnaise with Roasted Fingerlings and baby vegetables
Fresh Berry Trifle
HP Diner
Festivals | Private Parties | Events
The HP Diner can be found at area event servicing up delicious food. Bring the HP Diner to your next big event or festival.
Contact Jay Hartz for details.
jay@hotelpattee.com
​515-465-3511