October 29, 2016 by: Aaron Lenz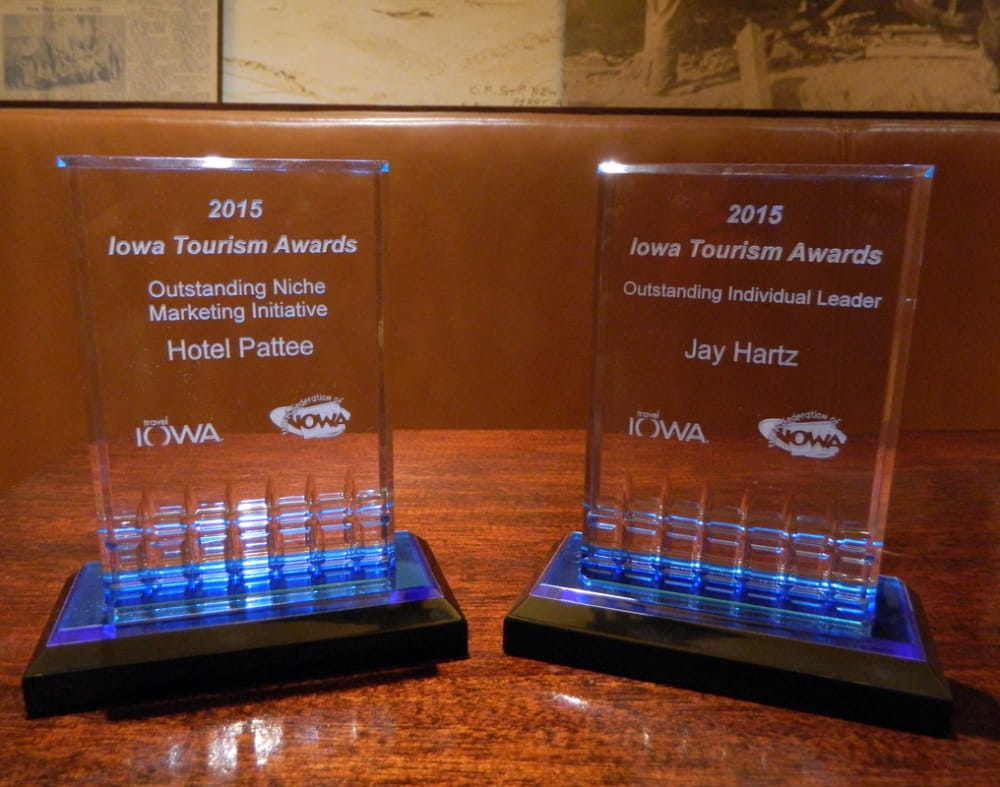 Another Award winning Year for the Hotel Pattee

The Iowa Tourism Office and the Travel Federation of Iowa presented 27 awards recognizing excellence in the tourism industry last week in Fairfield during the 2015 Iowa Tourism Conference. The Jay Hartz received an award for leadership and the Hotel Pattee received an award for niche marketing efforts.
Jay Hartz with his wife Denise purchased the Hotel Pattee in 2013. Over the past nearly two years Jay Hartz has steadily worked not only to promote the Hotel Pattee but to also promote other area businesses and attractions. Through collaborative efforts and ingenuity, Jay Hartz is an excellent example of community leadership.
Jay's outreach has not only included the Hotel Pattee, Perry and Raccoon Valley River Trail but also Madrid, Woodward, the High Trestle Trail, Jefferson, Adel, Grimes, Minburn, Indianola, Waukee, RAGBRAI and more. In his efforts to promote the Hotel Pattee he also celebrates with participation with other businesses, events and communities.
His efforts to create win-win situations through networking and building relationships is how Jay leads in the community he has thoroughly embraced after acquiring the Hotel Pattee.
Jay and Denise Hartz took a great leap of faith to move to Perry, IA and take over a unique Iowa treasure. Uprooting their family and life to take on a dream of running a historical hotel is remarkable enough but stepping up to embrace and celebrate the communities around him is exceptional.
​
The Flat Tire Lounge in Madrid was looking for new food service so Jay and his team put together the Frontier Shack serving Hotel Pattee food on the High Trestle Trail partnering with the Flat Tire Lounge.
Jay also started a video series where he interviews other businesses such as Angie's Tearoom in Jefferson and Picket Fence Creamery in Woodward. Many of the businesses Jay features are used in the Hotel Pattee's daily business and are shared through social media.
The Hotel Pattee Diner was also created in 2015 to take to area other communities and area events.
These are a few of the unique ways Jay has created to extend the Hotel Pattee into the surrounding communities using the Hotel Pattee website, social media and email campaigns, the Hotel Pattee markets not only the hotel but attractions and businesses without compensations. The Hotel Pattee website, www.hotelpattee.com, has dedicated pages such as The Hub, Cycling Amenities, Frontier Shack at the Flat Tire Lounge to promote area tourism. These pages have lots of information and link to the websites and social media to the other businesses and attractions.
"On the Road with Jay" videos can be found on the hotel's website and YouTube. These videos began to showcase products and Jay's favorite things.